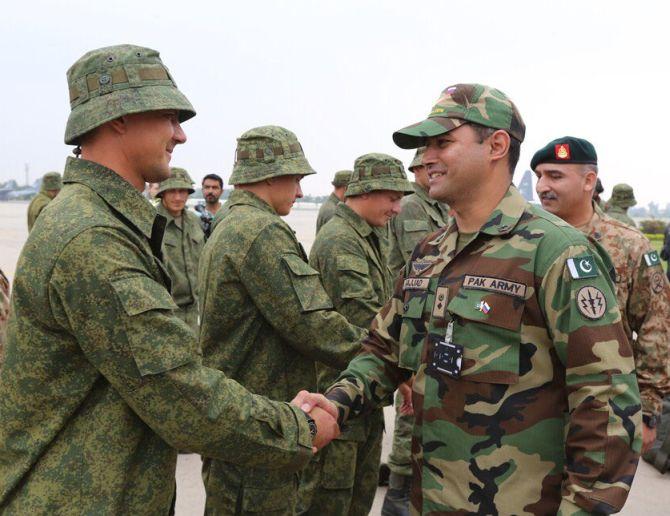 Russia's ties with Pakistan should not be a matter of concern for India as Moscow's relationship with New Delhi is of a 'strategic, long-term' nature, the Russian ambassador in New Delhi said on Thursday.
Russian envoy to India Nikolay Kudashev said his country's relationship with Pakistan was aimed at ensuring a stable Pakistan, contributing towards regional stability and efforts to combat terrorism.
Asked if during the summit meeting between Russian President Vladimir Putin and Prime Minister Narendra Modi last week, the Indian side expressed concern over the growing Russia-Pakistan ties, Kudashev answered in the negative.
"What is it to be concerned about. The relationship is very clear. We need a stable Pakistan...as far as I understand, this is also the idea of the Indian side," he told a select group of journalists.
On holding of military exercises with Pakistan, he said it was a counter-terror drill and nothing more should be read into it.
"Compared with India, our military and tactical cooperation with Pakistan is almost nil," he said.
On new developments in Russia-Pakistan relations in the last few years, he said 'something new should happen to bring Pakistan to the regional mainstream' and to convince it to invest more in fighting terrorism.
"Pakistan joining the SCO (Shanghai Cooperation Organisation) is a proof that this effort is succeeding. I don't feel there is any matter of concern for India. Our relationship with India is of strategic long-term nature," he asserted.
"No sensible person in Russia will say that we develop relations with Pakistan at the cost of India. It's impossible," the Russian envoy said.
Asked whether it will be fair to say that Russia and the US have serious differences over Afghanistan, the ambassador answered in the affirmative.
"...Because the American strategy for Afghanistan failed after 10 or more years of military presence. The security situation is deteriorating and there is not even a single report to the UN Security Council (by the US)," he said.
Talking about a peace conference on Afghanistan that was scheduled to take place in Moscow recently, he said there was a request from the Afghan side to postpone the meeting.
The Taliban had indicated its willingness to attend the conference.
Asked if India conveyed anything on attending the conference, Kudashev said, "There was no denial (of attending from the Indian side)."
As far as engaging with the Taliban is concerned, it is a matter on which the Afghan government has to decide, he said.
Kudashev said that during the Modi-Putin summit, Russia also reiterated its support for India's Nuclear Suppliers Group membership bid.

He also said the MoU signed in the field of civil nuclear cooperation during President Putin's visit will pave way for new nuclear power projects of Russian design in India, and collaboration in third countries. -- PTI