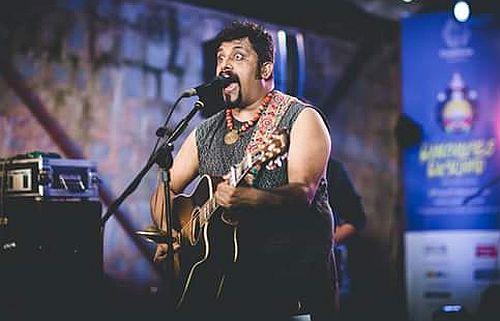 Singer Raghu Dixit, who is the latest to be accused of misconduct in the #MeToo movement, said on Wednesday that the account of the person levelling allegations against him was mostly accurate but he is not a predator.
The singer said he "completely misread" the situation and had immediately apologised to the person concerned and will do so again in private. Dixit, the frontman for the Raghu Dixit Project, a multilingual folk music band, was accused of sexual harassment by an anonymous woman, whose account was shared by a fellow singer, Chinmayi Sripaada on Twitter.
This is what Dixit said:
"Firstly, this is no defence. I am acutely aware of the allegations that have been made against me and Iwould like to put forth my side of the story and apologise.
"For everyone that is attacking Chinmayee Sripada, please stop it. Chinmayee is a good person and is doing the right thing in standing up for others. She had also been extremely nice to me when I interacted with her in the past, I remember she attended my concert in Hyderabad once and even invited me to her home for lunch.I remember the incident that Chinmayee's post refers to. I know who the person in question is and I have apologized to her in the past and apart from this public apology, will do so again privately.
"The incident did happen, but not entirely like it was described. It was a completely silly misjudgement on my part. I gave the person a hug and that led to me trying to kiss her before she stopped me and left from my studio. She then texted me and told me that she did not like my behaviour and I apologized profusely for what I did.
"It was not an ad-hoc recording, it was a scratch for a movie and her voice was one of the options I was presenting to the director of the movie. We had just finished recording what I thought was a beautiful song with this person, after which, we were talking and the discussion veered towards my personal life.
"My wife and I were in a bad place in our relationship and I definitely sought comfort. This person was incredibly sweet and sympathetic to what I said and I completely misread the situation.But I have to disagree with the following points that Chinmayee's post mentioned -
"Am I predator? Definitely not.
"Did I lure this singer or any other with a 'chance' to sing for my movie? Not at all. This singer had already finished singing the song.
"Did I speak ill of my wife? No. But I did vent out that we were in a bad place. I have not been the best husband to my wife and as much as we tried to make our marriage work, we were not able to. I have been separated from her for the past 3 years now and we are in the process of finalizing our divorce. I have also been seeking help from a few professional counsellors to deal with things at my end.
"Having said that, once again, I publicly apologise to this person and will do so privately as well. I apologized to her immediately after she brought her discomfort to my notice, and do so here again.
"I apologise to my estranged wife. She is indeed an awesome person and beautiful at heart.
"I also apologise to my fans and everyone who likes me and my music. I know this is hard for you to read, and I hope I will make it up to you someday.
"The #MeToo movement is important and has my complete support. Again, I will co operate with any legal or committee investigation into this matter, and I will still ask you all, even though I am the subject of this particular statement, to continue to believe the survivors. That is the need of the hour. We MUST empower women, learn from all that is going on and from our own missteps and mistakes.
"I have complete faith in my integrity and will be happy to face any inquiry and present my case, if the person in question decides to go ahead with it.
"I have been as true to myself as I can be with this response.
"Apologies to let all of you down."