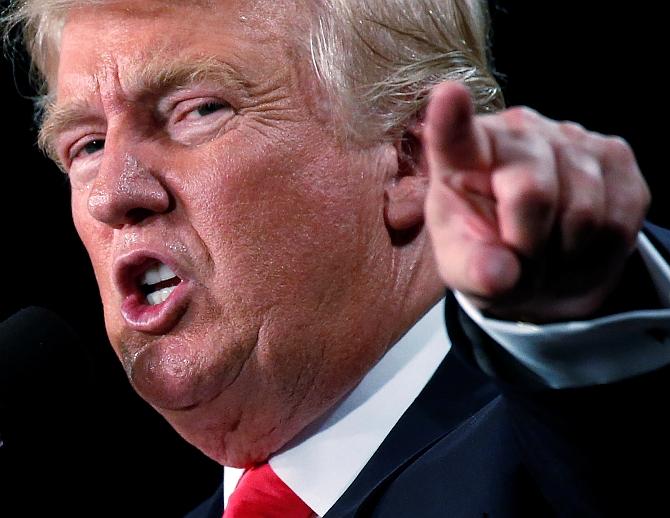 The other reason why the Asian markets plunged Thursday morning.
US President Donald Trump, Wednesday, said the Federal Reserve had "gone crazy" with plans for higher interest rates.
This morning, the benchmark Nikkei 225, the Hang Seng in Hong Kong and the Shanghai Composite all plummeted more than three per cent in early morning trade, as investors fretted about surging interest rates and an ongoing trade war.
In India, the benchmark BSE Sensex crashed today over 1,030 points to slip below the key 34,000-mark in early trade, tracking a global sell-off as the rupee hit yet another record low of 74.45 against the US dollar.
Traders attributed the carnage in domestic bourses to the sell-off in international bourses after US stocks tumbled on heavy correction in tech stocks, fresh concerns over Fed rate hike and looming impact of the US' trade war with the China.
The steep drop in Asia followed a decline on Wall Street of nearly 830 points, the biggest fall since February, amid Trump's latest criticism of the Federal Reserve, the US central bank.
The rout in US shares followed substantial losses on European bourses, due in part to tensions between Brussels and Rome over Italian budget plans that have revived fears about the eurozone.
The Business Insider reported that President Trump signaled his anxiety about the Federal Reserve's plan to keep raising interest rates into 2019 after stocks plunged on Wednesday. "I think the Fed is making a mistake," Trump said to reporters after landing in Erie, Pennsylvania, for a campaign rally on Wednesday. "They are so tight. I think the Fed has gone crazy."