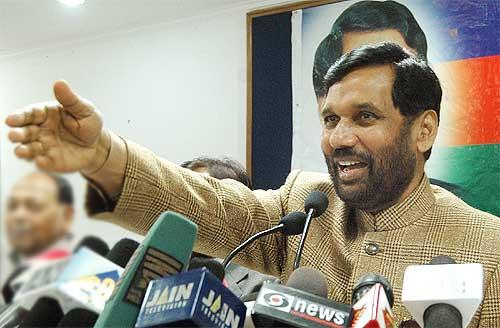 Union minister Ram Vilas Paswan will not contest the 2018 Lok Sabha elections, like his ministerial colleague Sushma Swaraj.
But unlike Swaraj, Paswan will get into the Rajya Sabha before the LS elections.
That's because Prime Minister Narendra Modi has suggested that Paswan be elected to the Rajya Sabha from Assam, to pave the way for a smooth working out of the Bihar formula between the Janata Dal-United and the Bharatiya Janata Party.
BJP president Amit Shah came up with the idea of sending Paswan to the Rajya Sabha from Assam while finalising the Bihar pakage with Chief Minister Nitish Kumar, and Modi promptly gave the green signal to it.
While BJP will ensure Paswan's victory from Assam, in return he has agreed to another LS seat being allocated to the BJP in Bihar.
Accordingly, both the JD-U and BJP will contest 18 seats each in Bihar, leaving four to the NDA partners.
The formula works for Nitish Kumar, too, as it leaves Upendra Kushwaha, who has been flirting with Sharad Yadav, out in the cold.