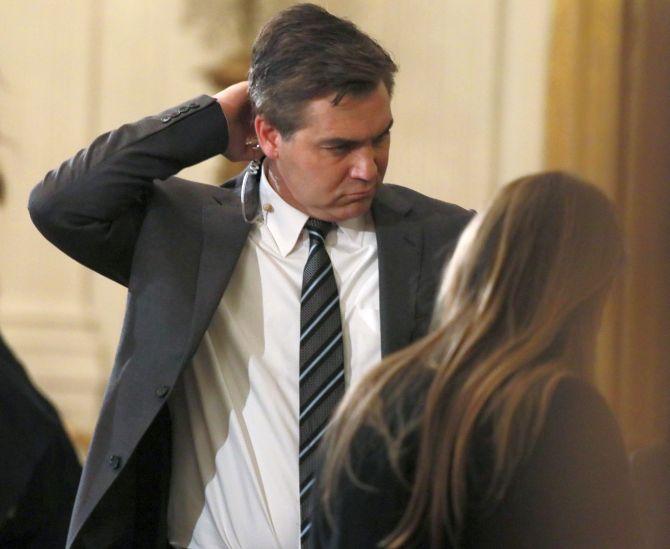 The Trump administration has restored the full press credentials of CNN reporter Jim Acosta who was temporarily barred from entering thw White House.
Following the decision, CNN announced to withdraw its lawsuit against the White House.
Simultaneously, the White House also announced that it has framed new rules for the reporters covering the news conferences, either by President Donald Trump or senior administration officials.
As per the guidelines, a reporter can ask a single question and permission for a follow up will be subject to the discretion of the individual holding the news conference.
Any violation of the rule might result in revocation of the press credentials, the White House Press Secretary Sarah Sanders said, as she announced restoration of full access to Acosta.
"This afternoon we have notified Jim Acosta and CNN that his hard pass has been restored. We have also notified him of certain rules that will govern White House press conferences going forward," Sanders said.
Acosta, is the Chief White House Correspondent of CNN. His hard pass was temporarily suspended after his altercation with Trump during a news conference on November 7.
CNN challenged the decision in the court. After a federal district court overruled the White House's order, Acosta's hard pass was temporarily restored on Friday.
Meanwhile, listing out the three new rules, Sanders said a journalist will ask a single question and then yield the floor to other journalists.
Secondly, at the discretion of the president or other White House official taking questions, a follow-up question or questions may be permitted.
Finally, "yielding the floor" includes, when applicable, physically surrendering the microphone to White House staff for use by the next questioner, Sanders said.
"Failure" to abide by any of rules "may result in suspension or revocation of the journalist's hard pass," she warned. -- PTI