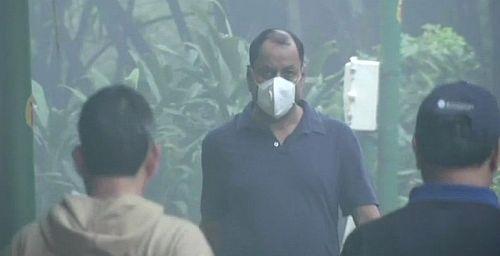 The thick blanket of smog and fog have shrouded the national capital after the country celebrated the festival of light- Diwali. According to the autonomous meteorological body set up under the Union Ministry of Earth Sciences, SAFAR, the overall Air Quality Index of Delhi at 8:15 am was recorded at 428, which falls under the 'hazardous' category.
An AQI between 0-50 is considered good, 51-100 is satisfactory, 101-200 moderate, 201-300 poor, 301-400 very poor and 401-500 is marked as severe/hazardous.
At Dhirpur, the AQI was 724 at 8:30 am, while in Mathura Road area it dipped to 'very poor' category at 625. Furthermore, AQI near Pitampura, Airport, Terminal 3 and Delhi University stood at 679, 481 and 801 respectively. The haze and smog will continue to persist during the early morning and late evenings for the next couple of days.
According to a report published by a research group Urban Emissions, as much as 5 million kilograms of firecrackers were burnt in the region leading to an emission of 150,000 kilograms of Particulate Matter (PM) 2.5 despite the Supreme Court's order stating that bursting of firecrackers will only be allowed from 8 pm to 10 pm on Diwali. Not only that, the judiciary only allowed the sale of 'green crackers' this festive season.
Experts believe that not only the burning of crackers has been responsible for the deteriorating air quality but replacement of moderate winds with light and calm winds, low temperatures, increased humidity levels are also contributing in increasing the toxicity in the air by a whopping figure.
If one looks closely, not only Delhi but many cities around the world such as Kampala, Bushehr, Narayangong, Rawalpindi, etc are gasping for breath owing to the increasing air pollution.It is believed that in order to combat air pollution New Delhi must follow Beijing's footsteps steps. In a span of less than four years, Beijing has shown tremendous improvement in its air quality by strictly enforcing comprehensive regional action plan and setting up time-bound targets.
For instance, the Xi Jinping-led government in 2013 first identified the major pollution regions such as Hebei, Tianjin, and Beijing and set up specific pollution reduction targets and rolled out ten measures for the proper implementations of the regional action plans. -- ANI
Image: Early morning walkers at Lodhi garden brave the smog. Doctors have advised people not to walk in the mornings when the air quality is at its worst. Pic: ANI