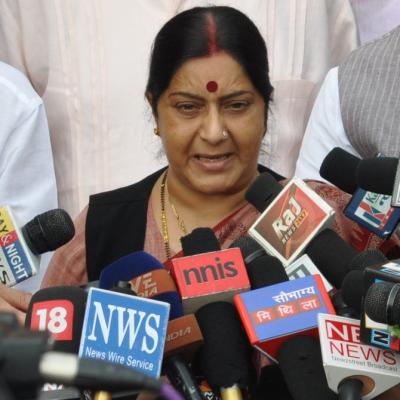 The Ministry of External Affairs statement on India's talks with the Taliban.
MEA spoksesperson Raveesh Kumar said India would support any Afghan-led initiative. "Our participation will be at the non-official level. We are not holding talks with the Afghans. We are supportive of any process in Afghanistan," he said.
On Thursday, Foreign Minister Sushma Swaraj had confirmed the participation of India in talks with the Taliban and said, "Our participation at the meeting will be at the non-official level. India supports all efforts at peace and reconciliation in Afghanistan that will preserve unity and plurality, and bring security, stability, and prosperity to the country. India's consistent policy has been that such efforts should be Afghan-led, Afghan-owned, and Afghan-controlled and with the participation of the Government of Afghanistan," the MEA said.
Elaborating on India's participation in this meeting, the MEA said India has have participated twice at an official level to preserve the unity and plurality and to bring security and peace in the region.
"If any process is consistent with our policy on Afghanistan then we will be part of it. We have made it clear already that our participation is at a non-official level. Don't know how people are concluding there will be talks with the Taliban; it's a meeting on Afghanistan in Moscow. We have no official confirmation," Raveesh Kumar said.
He also said PM Narendra Modi has accepted Maldives President Elect Ibrahim Mohamed Solih's invitation to attend the swearing-in ceremony on November 17.
Image: External Affairs minister Sushma Swaraj.