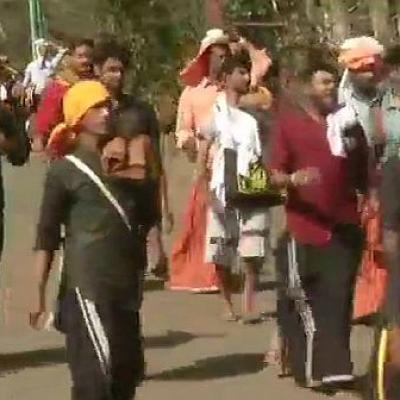 Hundreds of police personnel, armed commandos, surveillance cameras and mobile jammers have turned Sabarimala, the abode of Lord Ayyappa, into a virtual fortress, as it is set to open at 5 pm for 24 hours today for a special puja.
The unprecedented security arrangements have been made in the backdrop of protests by devotees and Hindu outfits from October 17-22 opposing the Left Democratic Front government's decision to implement the landmark Supreme Court verdict permitting women of all age groups to offer prayers at the hill shrine.
However, the security arrangements have not gone down well with the devotees and right wing activists who protested at several places against the restrictions at Sabarimala, considered the sacred grove of Lord Ayyappa, a celibate.
The temple would open at 5 pm and close at 10 pm Monday for the "Sree Chitira Atta Thirunal" puja slated for Tuesday, marking the birthday of the last king of the princely state of Travancore, Chithira Thirunal Balarama Varma.
The government and police machinery is on high alert to avoid any untoward incidents in and around the shrine, where ban orders under CrPC 144 are in force till Tuesday night.
Pathnamthitta Superintendent of Police T Narayanan had Sunday told PTI that all arrangements have been made for devotees to ensure smooth 'darshan'.
Around 2,300 personnel, including a 20-member commando team and 100 women, have been deployed for the security of the devotees. At least 15 women police personnel, who are over 50 years of age, have been deployed at the 'Sannidhanam' (temple complex), police said.
TV footage showed devotees locked in a war of words with police at several places along the route from Nilackal to Pamba, the key base camps on way to the shrine.
Besides being unsettled by the intense checking by the police, the pilgrims also complained about the lack of amenities at the base camps, which had witnessed widespread damage during the August deluge.
A group of devotees, who arrived at Erumeli since Sunday evening, protested this morning when they were not allowed to leave for Pamba. They blocked road traffic chanting 'Ayyappa Saranam' mantra.
Another batch of devotees complained that women police personnel asked their names and identity cards while travelling to Pamba in a state-run bus. "They stopped the bus and asked our names and demanded that we show the identity cards. I said my name is Ayyappa... everyone in our group said the same (as the Ayyappa devotees are called).
"In Sabarimala, everyone is Ayyappa... devotees call each other as swamy," a devotee, carrying the sacred 'irumudikettu' (offerings to Lord Ayyappa) on his head, told a TV channel.
Another young devotee said he was not allowed to chant 'Swamiye Saranam Ayyappa' by the security officials.