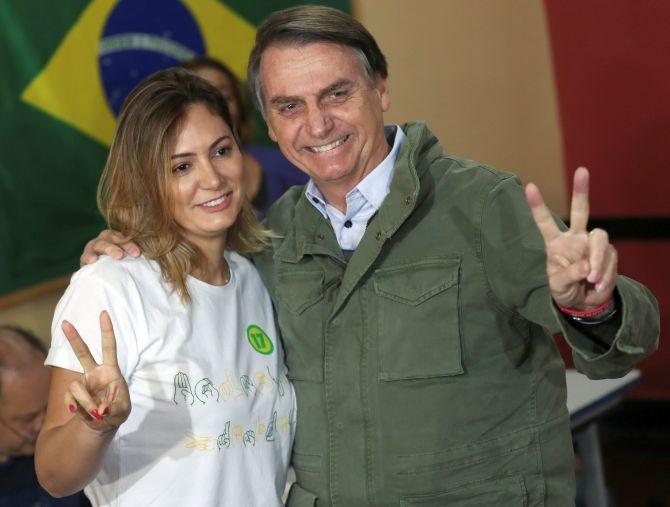 Brazil's President-elect Jair Bolsonaro has declared his intentions to move the country's embassy in Israel from Tel Aviv to Jerusalem once he assumes office.
"Israel is a sovereign state. If you decide on your capital city, we will act in accordance. When I was asked during the campaign if I'll do it when I was president, I said yes," Bolsonaro told Israel Hayom in his first interview since his election victory, Washington Post reported.
The move will follow the lead of the US President Donald Trump-led administration, which acknowledged Jerusalem as the Israeli capital last year and, in May, shifted their embassy from Tel Aviv.
Since the move, officials from Palestine have withheld engagements with their US counterparts.
Jerusalem is a disputed city as Palestinians regard East Jerusalem, which was occupied by Israel in the 1967 Arab-Israeli War, as the capital of the future independent state they demand.
Guatemala and Paraguay are the only two countries to have implemented the move after the US so far, although Paraguay later rescinded their decision.
Several other countries have indicated that they will also shift their embassies to Jerusalem in the future.
Though Brazil and Israel have a long history of bilateral relations, their relations have been strained in recent years. Brazil had in 2014 criticised the use of 'disproportionate' armed forces by Israel in the Gaza Strip, with an Israeli Foreign Ministry spokesman labelling the South American nation a 'diplomatic dwarf' and an 'irrelevant diplomatic partner'.
Bolsonaro, who will assume the office of the Brazilian President from January 1, has often hinted towards his wish for closer ties with Israel, pledging his support for the Middle Eastern nation on the international stage during the interview with Israel Hayom.
"Rest assured that you can depend on our vote in the UN on almost all the issues having to do with Israel," Bolsonaro said.
Israeli Prime Minister Benjamin Netanyahu took to Twitter, to laud the move to relocate the embassy from Tel Aviv to Jerusalem.
'Congratulations my friend, the incoming Brazilian President, Jair Bolsonaro, on his intention to move the Brazilian Embassy to Jerusalem. This is a historic step, right and exciting!' Netanyahu tweeted.
Bolsonaro also said that he intended to shift the Palestinian Embassy in Brasilia, saying, "It was built too close to the presidential palace. No embassy can be so close to the presidential palace, so we intend to move it."
During Luiz Inacio Lula da Silva's tenure as the President, Brazil had recognised Palestine as a sovereign nation, which Bolsonaro has indicated he is opposed to.
"Palestine first needs to be a state to have the right to an embassy," Brazil's President-elect said. -- ANI