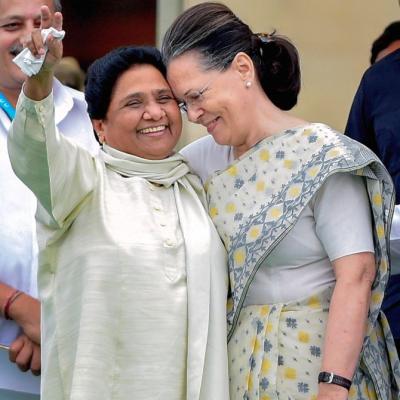 Buoyed by the formation of its alliance government in Karnataka, a Congress leader has hinted the party would be inclined to align with the Bahujan Samaj Party to wrest power from the BJP in Madhya Pradesh, where the Assembly polls are due later this year.
MP Congress chief Kamal Nath and state assembly election committee campaign chairman Jyotiraditya Scindia would be in favour of tying-up with the BSP to sweep the assembly polls, said a senior Congress leader, who did not wish to be named.
However, the leader also said the party high command would take a final call on stitching any alliance with the BSP.
Earlier, when reporters asked Nath about his party's strategy for the elections in the central Indian state, he had said the party had not started talks of alliance with anyone.
"I will take everyone's opinion on this and the modalities of a tie-up," he had said.
Nath said the BJP had pocketed just 31 per cent votes in the 2014 general elections, while 69 per cent of the ballots were cast against the saffron party.
"The BJP then claimed that it got majority but what sort of a mandate it secured?" he asked.
The Congress does not want fragmentation of votes and keeping this in perspective, talks were going to be initiated at the national and the state-level, he had said.
A senior BSP leader, who is considered close to Mayawati, said they cannot comment on a pre-poll alliance with the Congress. "Behenji (Mayawati) deals with such issues," he added.
-- PTI