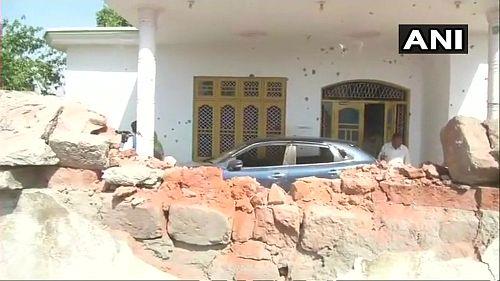 Pakistani troops violated ceasefire in the RS Pura sector in Jammu and Kashmir today damaging houses and cars. No casualties have been reported. However, 2 civilians were killed and 3 injured in heavy shelling and firing by Pakistani Rangers on civilians areas along the IB in Kathua-Jammu sectors.
Earlier today, one civilian was injured in a ceasefire violation by Pakistan in the Arnia Sector. Earlier on May 18, Pakistan violated ceasefire along the Line of Control in RS Pura and Arnia sectors, killing a total of five people including one Border Security Force jawan and four civilians.
Following the heavy shelling, the district administration had sent a bulletproof vehicle to border village Bobiya and evacuated the people to safe place.
Pakistan has been violating the ceasefire agreement and resorting to heavy shelling in Hiranagar, Samba, Ramgarh, Arnia and Suchetgarh sectors in the state over the last few weeks. -- ANI