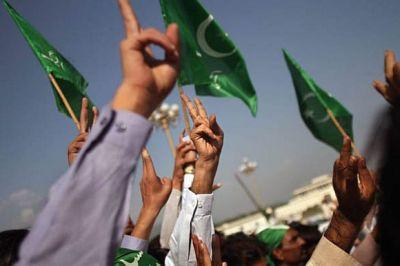 Pakistan's election commission on Monday proposed July 25-27 as possible dates for holding general elections in the country.
The Election Commission of Pakistan forwarded a report to President Mamnoon Hussain requesting him to set one of the proposed dates as the day of the polls.
The announcement comes just days before the term of the sitting PML-N government is set to expire on May 31.
Consultations regarding candidates for the post of caretaker prime minister are also ongoing.
Prime Minister Shahid Khaqan Abbasi held a meeting with Opposition Leader Khursheed Shah regarding the matter last week. A final meeting is expected to take place on Tuesday.
Prior to the meeting, Abbasi met PML-N leaders Nawaz Sharif and Shahbaz Sharif to discuss candidates for the post.
A close aide to Sharif and a senior PML-N leader told the daily that the meeting was of the view that it did not make much difference whether the PML-N proposed a name for the caretaker prime minister "as everyone knows who would control him at the end of the day".
"In such a situation there is a view in the party that it should not be keen in nominating someone for the slot, he said, adding that if this view prevailed (in the party) either the opposition (PPP) nominee would get the nod of the PML-N or the matter might be referred to the ECP.
Another leader who was privy to the development was quoted as saying that Sharif was not in favour of referring this matter to the ECP and wanted consensus.
He said the huddle also seriously pondered over accepting the nominee of the PPP for the caretaker premier. -- PTI