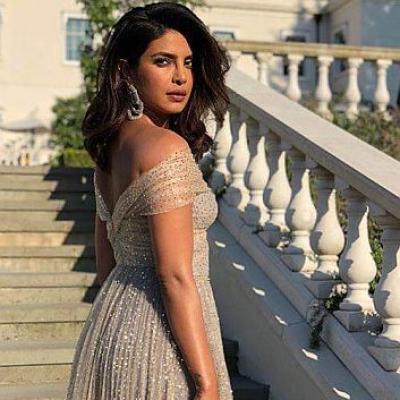 Priyanka Chopra took to Twitter today to thank French fashion house Christian Dior for the dreamy gown she wore to the ball at Windsor Castle after the royal wedding of Prince Harry and Meghan Markle on Saturday.
The stunner wrote, "And then she danced the night away.... A very special thank you to @Dior for making me sparkle. Also thank you to my incredible team for your brilliance and dedicated hustle...no one just wakes up like this, and I feel so happy to work with you..."
The 'no one just wakes up like this' remark is in fact a hat tip to Sonam Kapoor, who in a blog in 2016 busted the myth that actresses look stunning 24X7. She had written, Please know that nobody wakes up like this. Not me. Not any other actress. (Not even Beyonc. I swear.).
Priyanka sported a lilac Vivienne Westwood dress suit at the wedding.
The actress met Meghan at an ELLE Women in Television dinner two years ago, following which Priyanka has said that they "bonded as actors. We just became friends, like two girls would."
She was among the high-profile guests which included Oprah Winfrey, George and Amal Clooney, David and Victoria Beckham, Idris Elba, Elton John, Tom Hardy, James Corden, James Blunt, Carey Mulligan.
Tennis star Serena Williams and rugby star Jonny Wilkinson were also present.