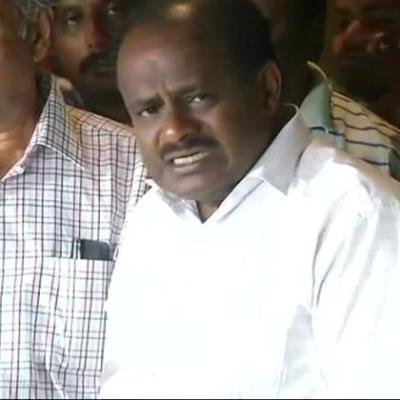 Janata Dal-Secular leader HD Kumarswamy tonight claimed that the Bharatiya Janata Party had "hijacked" two of its lawmakers.
"Two MLAs have been hijacked by our BJP friends. But, I am certain that they will come back to us," Kumaraswamy told reporters.
Kumaraswamy said that the BJP is trying to 'buy' his party MLAs for the past two day and says that the party with the help from the Congress has enough strenght to form the governemnt.
The JD-S and the Congress have jointly given list of 118 MLAs to the governor. We've sufficient strength to form governemtn in Karnataka. This morning Supreme Court has given judgement on governor's decision. For past two days, the BJP is trying to by the MLAs of the opposition," he said.
Both parties took their lawmakers to Hyderabad amid the unfolding drama in Bengaluru to prevent the BJP from poaching them.
The Congress contingent stayed at hotel Taj Krishna while their JD-S counterparts checked into Novotel at the Hyderabad International Convention Centre near the Hi-Tec City.