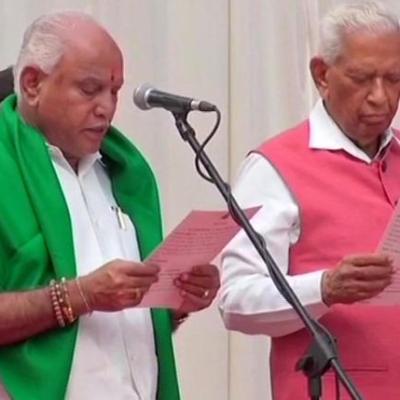 B S Yeddyurappa takes oath as Karnataka chief minister. After the midnight drama over the formation of government in Karnataka ended, though not entirely, in the Supreme Court, the swearing-in of Bharatiya Janata Party's Yeddyurappa finally took place at Raj Bhavan on Thursday at 9 am.
Yeddyurappa took oath as the 23rd chief minister of Karnataka after the Supreme Court early this morning decided not to put a stay on the swearing-in while conducting a post-midnight hearing, wherein Congress and JD(S) pleaded for the same citing BJP's inadequate strength in the assembly to stake claim at forming the state government.
The three-judge bench of Justice AK Sikri, Justice Ashok Bhushan and Justice SA Bobde, however, did not dismiss the petition filed by the two parties and said: "This petition is a subject of hearing later on".
The next hearing will take place on Friday at 10:30 am.
Late last night, Congress and JD(S) challenged Karnataka Governor Vajubhai R Vala's decision in the top court to invite BJP to form the government even when the saffron party, with 105 MLAs, including one Independent MLA, is seven short of the halfway mark of 112.
They contended that they, with a total strength of 115 MLAs, are in a better position to form the government.Though Vala has invited the BJP to form the government, he has given 15 days to the saffron party to prove its majority in the state assembly.In the hearing, former Attorney General Mukul Rohatgi appeared for Bharatiya Janata Party, Additional Solicitor General (ASG) Tushar Mehta for the Union government, and Abhishek Manu Singhvi for the Congress-JD(S) alliance.
The hearing commenced at 2.20 a.m. and concluded with the court passing order at 5.30 in the morning. This will be the third time when Yeddyurappa will take oath as the Chief Minister of Karnataka.