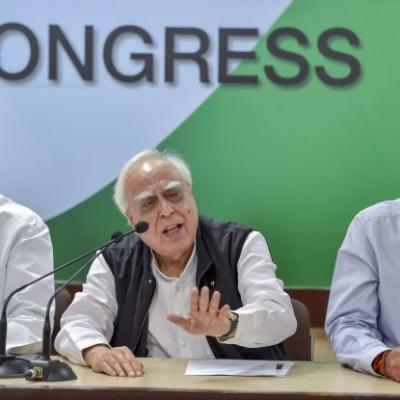 The Supreme Court on Wednesday night agreed to hear at 1.45 am the petition filed by the Congress challenging Karnataka governor Vajubhai Vala's decision to invite the BJP to form the government in the southern state.
The Chief Justice of India Dipak Misra has constituted a bench comprising Justices A K Sikri, S A Bobde and Ashok Bhushan to hear the matter in court number six.
The petition has sought a stay on the oath-taking ceremony, as communicated by the governor to the BJP's chief ministerial candidate B S Yeddyurappa, scheduled for 9.30 am on Thursday.
In a midnight legal push, the Congress had approached the Supreme Court seeking an immediate intervention by the chief justice to stay the move, which it termed as an "encounter of the Constitution".
The Congress urged Chief Justice Dipak Misra to hold an urgent hearing on Wednesday night itself since Yeddyurappa is slated to take oath as chief minister at 9.30 am.
Senior Congress leader Abhishek Singhvi said the party sought a hearing on its petition challenging the governor's decision in the night. The party termed the governor's decision as "murder of democracy and trampling of the Constitution".
Earlier in the evening, Vala invited Yeddyurappa to form the government and take oath as chief minister on Thursday. He also asked Yeddyurappa to seek a vote of confidence within 15 days of assuming office.
Singhvi, who has been assigned the task to lead Congress's legal challenge against Vala's decision, had met the Supreme Court registrar to take forward the process to hear the "urgent petition".
The petition prepared by advocate Dev Dutt Kamath contended that despite presenting the list of 116 MLAs, governor Vajubhai Vala invited the BJP which has 104 MLAs to form the government and has given relatively longer time of 15 days to prove the majority on the floor of the House.
The petition, it is learnt, has also stated that an order should be passed for inviting the Congress to form the government. Kamath and other advocates earlier met the registrar for putting the petition before CJI Misra for constituting the bench.
Sources said the BJP has also kept a team of senior advocates, including C S Vaidyanathan, ready to represent the party. The Congress has also said that granting 15 days' time to Yeddyurappa to prove his majority on the floor of the House will promote horse trading, alleging that BJP will resort to poaching of MLAs of Congress and JD-S.
The BJP has emerged as the single largest party in the southern state winning 104 seats, but is short of a simple majority.
On the other hand, the Congress and JD-S, which have already announced a post-poll tie-up, have won 78 and 37 seats respectively and claimed before Vala to have numbers to form government in the state.
--PTI