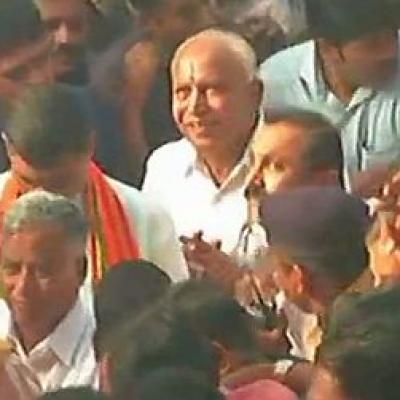 All India Congress Committee General Secretary Ashok Gehlot issues a letter requesting all Pradesh Congress Committees, leaders and workers to organise state-wide dharnas at state capitals and district HQ tomorrow to protest against the Karnataka governor's decision for inviting BS Yeddyurappa to form government in Karnataka.
The note asks every Congress leader and worker to reach out to 'democratic forces, civil society, in all walks of life who will lend their support to the cause'.
Other opposition parties are also determined to organise a major movement across the country in defence of democracy, if parliamentary democratic norms are not followed in Karnataka, CPI(M) general secretary Sitaram Yechury said today.
The Congress, JD(S), the Left, and other regional ones, who are in touch with each other, are likely to meet either in Bengaluru or Delhi to chalk out their plan for the movement, PTI reported.
After being sworn in, BS Yeddyurappa said, "I am sure of winning the vote of confidence and my government completing five years." He has been given a 15-day window by the governor to prove his majority, but he said he would not wait so long and was keen to do it as soon as possible.
Image: Karnataka CM at the BJP office in Bengaluru