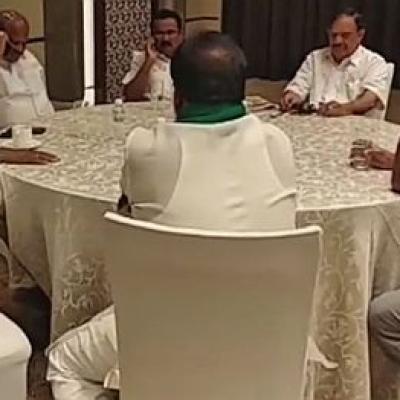 In Bengaluru, JD(S) MLAs wait for the legislative party meeting to begin shortly.
With Karnataka throwing up a fractured verdict, both the BJP and the JD(S)-Congress combine have staked claim to form government.
The Congress and JD(S) now fear horse trading by the BJP.
JD(S) leader HD Kumaraswamy said the party is taking care to make sure its MLAs are not poached. JD(S) leader Saravana said, "I don't know what they (BJP) are offering but they are trying to call our people, but they are not responding. We are all together, no one can touch our party. Our party MLAs are loyal to the party."
Outgoing Congress Chief Minister Siddaramaiah stated outright that the BJP may try to poach its MLAs.
Ghulam Nabi Azad of the Congress who was part of the entourage which met the governor at the Raj Bhavan, said JD(S) has faith in its MLAs. "Nobody is going to go away. Let BJP try, whatever they want to," Azad said.
All eyes are now set on Governor Vajubhai Rudabhai Vala, who will take the crucial decision-- whom to call first to form the government in the state.
It is solely up to Governor Vala to take this major decision to whether call the single largest party i.e. BJP or the coalition party to stalk its claims to form the next government in Karnataka.