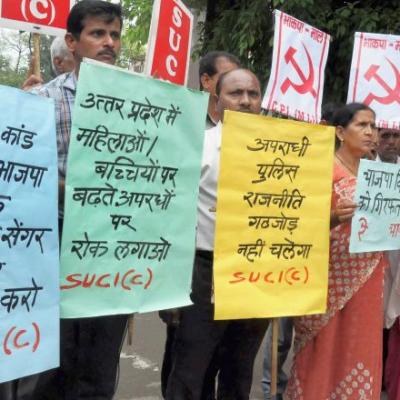 The Central Bureau of Investigation today arrested two sub-inspectors of the Uttar Pradesh Police in connection with the reported death of the father of a minor girl, who was allegedly raped by Bharatiya Janata Party MLA Kuldeep Singh Senger at Unnao, in judicial custody.
Sub Inspector Ashok Singh Bhadauriya, the then Station Officer and Sub Inspector Kamta Prasad Singh--both of Police Station Makhi in Unnao district have been arrested in the case, officials said.
The duo is at present under suspension.
The accused will be produced before the competent court tomorrow, they said.
The two have been arrested over allegations of criminal conspiracy and destruction of evidence, the officials said.
The rape victim had alleged that she was raped by the MLA at his residence on June 4, 2017 where she had gone with a relative seeking a job.
The victim's father was booked by the police under the Arms Act on April 3 this year and put in jail on April 5.
Frustrated with the alleged inaction and coercion from powerful people, the victim attempted self immolation in front of Uttar Pradesh Chief Minister Yogi Aditynath's residence on April 8.
The next day, her father died in jail, with the postmortem report mentioning serious injuries on his body. --
PTI