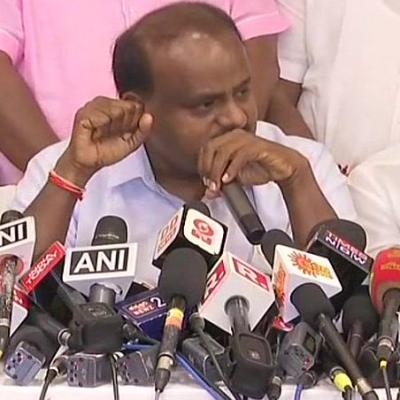 Update: "JD(S) MLAs are being offered Rs 100 crore each. Where is this black money coming from? They are supposedly the servers of poor people and they are offering money today. Where are the income tax officials?: Kumaraswamy.
He said the Congress-JD(S) combine had a "clear majority" with the support of 116 MLAs. "Without the numbers, how can they (BJP) form the government?" he asked. Kumaraswamy said he was not out to grab power. As the state Assembly polls gave a fractured verdict, the JD(S) and Congress have come together and petitioned Governor Vajubhai Vala to allow the combine to form its government.
"BJP's Ashwamedha Yatra started in the north, the horses have been stopped in Karnataka. This verdict is to stop the Ashwamedha Yatra. Forget 'Operation Kamal' being successful, there are people who are ready to leave BJP & come with us. If you try to poach one from ours, we'll do the same & take double from you. I'm also telling the governor to not take any decision which encourages horse-trading."
On being asked if he had met BJP Karnataka in-charge Prakash Javadekar. Kumaraswamy asked, "Who is Javadekar? Who is that gentleman?"