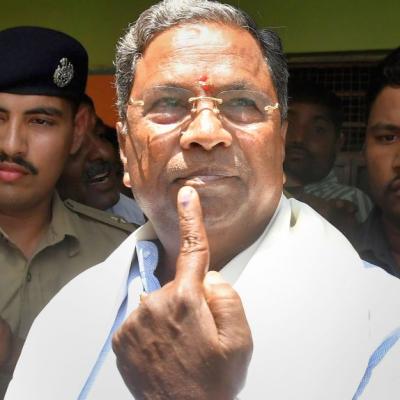 Outgoing Chief Minister Siddaramaiah turned "emotional" at a meeting of the party's new legislators today while speaking on Congress' defeat in the assembly polls even as senior leaders blamed him for the result, party sources said.
The 69-year-old leader received flak from several senior party MLAs, who held him responsible for the Congress' performance, citing his complete authority in selection of candidates and the Lingayat issue, they said.
Meanwhile, home minister in the outgoing government Ramalinga Reddy said most of the MLAs were present at the meeting today except "three or four " who were on their way, but all were in touch".
Claiming that 117 MLAs were on their side, he said "despite this if the Governor does not invite us, we will decide how to go further...we may also parade our strength."
Party sources aware of the developments said Siddaramaiah "kind of got emotional" as he spoke during the legislature party meeting of the Congress' loss despite his government's "good developmental works".
Siddaramaiah is also said to have cited "polarisation" as one of the factors that affected the party's prospects in the May 12 election.
The sources said 73 legislators, including one independent MLA, were present at the meet.
Six MLAs who were absent were in touch with party leaders over phone, they said. -- PTI