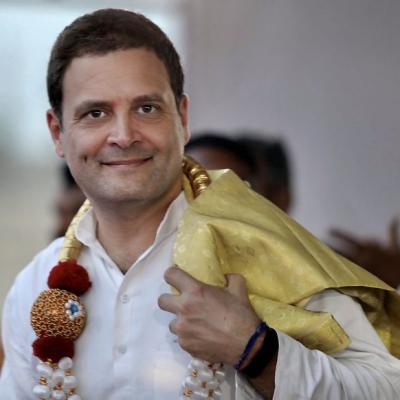 After Prime Minister Narendra Modi attacked Rahul Gandhi today for publicly declaring his prime ministerial ambition, BJP's bickering ally Shiv Sena said it was the Congress president's democratic right to express his stand and no one should make fun of it.
Speaking to reporters in Mumbai, Sena's Rajya Sabha member Sanjay Raut also said that his party considers NCP president Sharad Pawar a worthy candidate for the prime minister's post.
"In a democracy, Rahul Gandhi has the right to state that he wants to become prime minister. No one should make fun of it. Modi became prime minister through this right. In fact, at that time (in 2014) the stand (of many) was that (L K) Advani should have become the prime minister," he said.
"Defeat Rahul Gandhi and stop him (from becoming prime minister). There is no reason to get restless on his stand," he suggested.
Raut, who is the executive editor of the Sena mouthpiece 'Saamana', also said that the Congress is the "largest political party" in the country.
"Due to the unique atmosphere prevailing in 2014, it was defeated. The constituent parties of the UPA will decide on Rahul Gandhi's stand.
"We consider Sharad Pawar to be a worthy candidate. Modi, (Arun) Jaitley, Advani, each of them has the capability. After occupying the post, the capability comes," he said.
Earlier in the day, addressing an election rally in Karnataka, Modi wondered whether the country would ever accept such an "immature and naamdar (famous)" leader for the post.
His attack came a day after Gandhi said he was ready to occupy the prime minister's post if his party emerged as the biggest party in the 2019 Lok Sabha elections.
To a question over BJP chief Amit Shah talking about the BJP's willingness for alliance with the Sena for the 2019 polls, Raut said confusion was reigning supreme in the BJP.
"Let us first sit and talk. No one can exert pressure on the Sena. It was Sena president Uddhav Thackeray's decision to contest all future elections on our own," he said. -- PTI