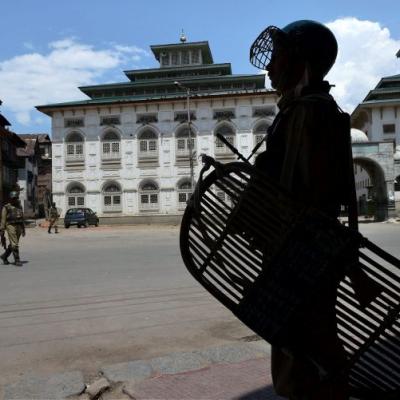 Normalcy returned to most parts of Kashmir Valley today as the separatists called off their three-day strike against the death of six civilians during clashes with security forces, in which eight militants were also killed.
A police official said there were no restrictions in most parts of the Srinagar today, with shops and other business establishments getting back to business.
He said public transport also resumed services. Similar reports were received from district headquarters of the Valley, except in Pulwama and Shopian districts of south Kashmir, the official said.
He said markets in main towns of Pulwama and Shopian remained shut, while the public transport was also suspended. The official, however, said the situation remained peaceful in these areas.
The Joint Resistance Leadership, an amalgam of separatist groups spearheaded by Syed Ali Shah Geelani, Mirwaiz Umar Farooq and Mohammad Yasin Malik, had yesterday called off their three-day strike, and asked the people to resume normal activities.
"JRL has asked the people to resume normal activities from tomorrow (Wednesday), but at the same time people from all walks of life should hoist black flags and display black arm bands to show their commitment to the movement," a spokesman of the separatist amalgam said in a statement yesterday.
Five Hizbul Mujahideen militants, including an assistant professor of the Kashmir University, were killed in an encounter in the valley on Sunday. Five civilians, who were protesting near the encounter site, also died during clashes with security forces.
Another civilian youth, who was injured in the clashes, succumbed to injuries yesterday. The police official said most of the colleges and higher secondary schools in various districts of the Valley continued to remain shut for the third consecutive day today as a precautionary measure.
He said the universities in Kashmir, however, resumed classes this morning, while most of the schools across the Valley also reopened. "But the restrictions continue in Pulwama and Shopian districts where the educational institutes remain shut," the police official said. -- PTI
Representational image