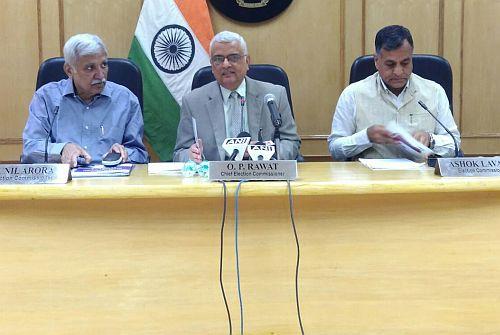 Chief Election Commissioner OP Rawat on BJP IT Cell head Amit Malviya's tweet on elections date in Karnataka even before the EC had announced the dates. "It will be investigated. Be assured that action legally and administratively befitting will be taken," the CEC said.
Amit Malviya, BJP's IT Cell head, when questioned about his Tweet on Twitter cited Times Now and then deletes the tweet. Malviya got the date of the elections -- May 12, right, but the counting May 15, wrong. He had tweeted the date as May 18.
The Congress reacted with spokesperson Randeep Singh Surjewala tweeting, "BJP becomes the 'Super Election Commission' as they announce poll dates for Karnataka even before the EC. Credibility of EC is on test. Will EC now issue notice to BJP President, Amit Shah & register an FIR against BJP IT Head for leaking EC's confidential information?"
NDTV's Sreenivasan Jain tweeted saying the "sanctity of #KarnatakaElections2018 as well as the authority of the Election Commission are both undermined today with a BJP functionary & a couple of channels announcing poll dates before the EC did. Whats going on?"