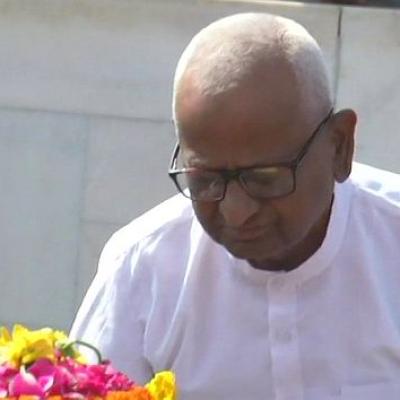 The Supreme Court today sought a detailed reply from 12 states and Union territories for not appointing Lokayukta.
A bench of top court headed by justices Ranjan Gogoi directed chief secretaries of states concerned to file an affidavit in the issue within two weeks and apprise the court about it.
The reply has been sought from Jammu and Kashmir, Manipur, Meghalaya, Mizoram, Nagaland, Puducherry, Tamil Nadu, Telangana, Tripura, Arunachal Pradesh, Delhi and West Bengal.
Though the Lokpal and Lokayuktas Act was passed in 2013 and came into effect the following year, the aforementioned states have failed to appoint the anti-corruption ombudsman.
This is why social activist Anna Hazare today started an indefinite hunger strike to press for his demand to appoint a Lokpal at the Centre. His protest comes nearly seven years after his anti-corruption movement caught the imagination of millions of Indians and shook the then UPA government.
-- ANI
Image: Social activist Anna Hazare at Rajghat this morning.