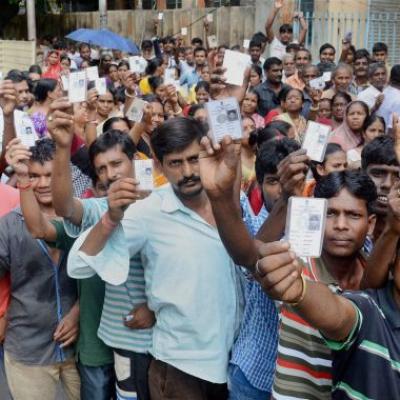 Vice President Venakaiah Naidu today asked people to look for "character, conduct, caliber and capacity" in a candidate and remove "caste, community and cash" from the system.
Addressing the inaugural programme of the three-day 'Bihar Diwas' celebrations in Patna, Naidu said women's empowerment is in tune with the ancient traditions of the country, "which we call Bharat Mata and not Bharat Pita".
"Indians are making it big in all walks of life and their mettle is being proven across the world. There are so many MNCs which are headed by Indians," he said.
Naming Google CEO Sundar Pichai and Pepsico CEO Indira Nooyi, the vice president said their success points towards the immense potential that lies within this country endowed with fertile land and fertile minds.
While electing their representatives, voters ought to focus on "character, conduct, caliber and capacity" of the candidates and not get swayed by "caste, community and cash", he said.
He said: "It was at Champaran in Bihar that Mahatma Gandhi demonstrated before the world the power of non-violence, which is more potent than atom bomb".
Commending Nitish Kumar for various steps taken by his government to improve the lot of women, he said: "Many people say the ancient Hindu traditions favour the women staying inside their homes. They should look at our mythology wherein deities like Saraswati, Durga and Laxmi come across as the equivalents for ministers taking care of education, defence and finance respectively."
"It is because of our reverence for women that we call our country Bharat Mata and not Bharat Pita. The country has, from time to time, grappled with social evils like the custom of Sati. But the revolt against these came from within," he said adding, the practice of Sati was brought to an end not by someone from abroad "but by our own Raja Ram Mohan Roy."
Naidu said before the British came to India, the country's GDP was said to be 27 per cent of that of the entire world.
"The country is once again growing at a brisk pace and we can expect to usher in a new era of prosperity in the foreseeable future," Naidu added. -- PTI