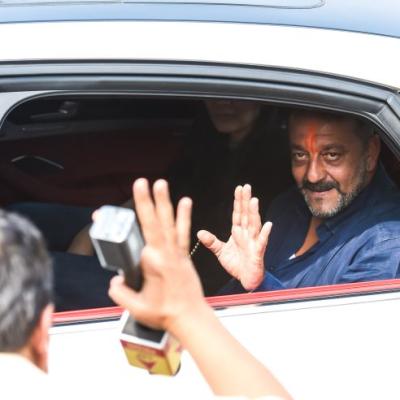 Bollywood star Sanjay Dutt has slammed author Yasser Usman for his 'unauthorised' biography on him.
Dutt took to Twitter to clarify the matter and said he is planning to take legal action against the author and the publication, Juggernaut Books.
The actor shared a note to put across his point and captioned it as, "I hope better sense will prevail and there will be no further excerpts that will hurt me or my family. My official autobiography will be out soon which will be authentic and based on facts."
The note shared by the Munna Bhai M.B.B.S. star read, "I have not authorised either Juggernaut Publications or Yaseer Usman to write/publish my biography. Our lawyers had sent them a legal notice, in response to which Juggernaut Publications said that contents of the proposed book are based on information available in public domain from authentic sources."
"However, from the excerpts that are appearing in the newspaper are partly based on my old interviews but rest all seemed to be based on hearsay, 1990's tabloids and gossip magazines, most of which are figments of imagination and not true. I have consulted with my legal team on the next course of action," Duut added.
Juggernaut Books, however, responded to the actor's statement and said they were "sorry to hear that Mr Sanjay Dutt was upset with the book."
Here is Juggernaut's statement:
We are sorry to hear that Mr Sanjay Dutt was upset by our book on him. The author, Yasser Usman, an award-winning journalist and reputed writer on Bollywood actors, is a fan and very sympathetic to Mr Dutt. Yasser has chosen his sources and materials with care. He has relied extensively on direct quotes from Mr Dutt, his close associates such as Mr Mahesh Bhatt, and members of the Dutt family. Additionally, Yasser has referred to stories already in the public record for many years that were uncontested and widely reported. These stories that have appeared in leading film periodicals have relied on accounts of credible and authoritative sources, people who have either worked closely with or been associated in various capacities with Mr Dutt. The book has been painstakingly footnoted, and the sources the book has relied upon have clearly been mentioned.
Moreover, as has been said in most of Yasser's interviews and pieces in the press, he is a huge admirer of Mr Dutts honesty and lack of pretense and believes these qualities meaningfully set him apart from the rest of the film industry. The book is a homage to those admirable and rare traits of honesty and frankness.
However, to pay respect to Mr Dutts wishes, we wont put out any more extracts from the book in short-form media.