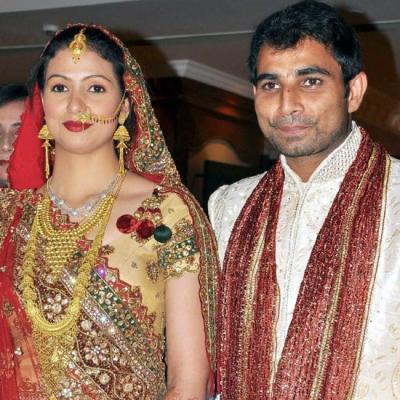 Indian pacer Mohammed Shami's wife Hasin Jahan today sought "help" of West Bengal Chief Minister Mamata Banerjee in her pitched battle against her husband.
Jahan has levelled numerous allegations on her husband, ranging from adultery, match fixing to even attempt to murder.
"It's a fight for truth by a helpless woman against a celebrity cricketer who has fame, name and money. No one is with me and I request the chief minister to come for the support of truth, but not me or Shami," Jahan told reporters.
"Our fight has reached a stage that there's no question of a compromise now. I will fight my own battle. If I give up now, it will be the loss of face for the whole women community. And why should I? I've all the evidence with me. No chance," she said firmly.
Jahan further alleged that Shami is still giving her threats as she sought for a police protection.
"Shami called me today saying 'Aren't you ashamed of yourself? You have framed me.' He further asked me to take back all the allegations for the sake of my and my daughter's lives," she said.
Pleading for privacy, Jahan also apologised to the media for losing her cool as she had a fight with a TV journalist and even broke a video camera.
The Kolkata Police last week booked Shami and four others under various non-bailable and bailable sections after Jahan lodged a complaint of domestic violence and infidelity against the cricketer.