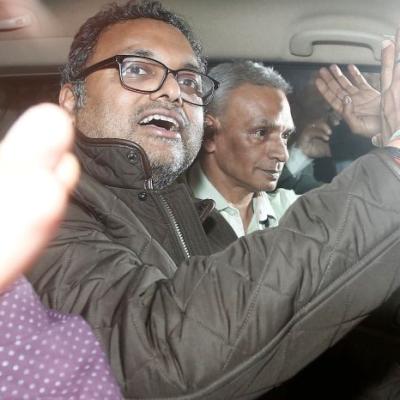 A trial court yesterday, sent Karti Chidambaram, son of former Union minister P Chidambaram, to judicial custody till March 24 in the INX Media corruption case.
Karti was sent to the notorious Tihar jail in Delhi; this was how his first day in prison panned out.
Karti was given prison clothes but he chose to keep what he was wearing -- a pair of jeans. Sources say Karti did not want to wear a dhoti because he did not want other prisoners to identify him as a south Indian.
This morning, Karti had to stand in queue to get his breakfast and at night, his dinner. Karti said he was feeling suffocated and so as standard operating procedure, two doctors checked his health and submitted the report to the jail superintendent. The superintendent, incidentally, was speaking to Karti in Hindi, but Karti asked him to speak in English. Karti wanted three English newspapers and two tamil papers, which were provided to him.
His mother Nalini Chidambaram and his wife are likely to visit him at 4 pm.
Tihar Jail is manned by the Tamil Nadu police and Karti finds some solace in being able to speak to Tamil with them. He wanted coffee and asked to meet his daughter, which the jail superintendent permitted.
The court had rejected Karti's plea seeking allotment of a separate prison in Tihar Jail saying that in view of social status of the accused and his father, he cannot be treated different from the other accused.
File pic.