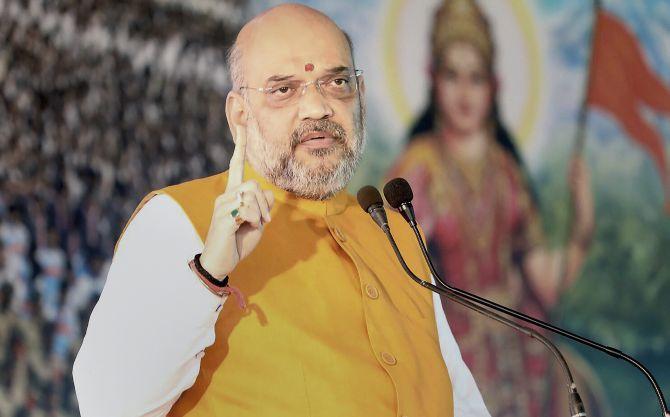 Bharatiya Janata Party president Amit Shah will arrive in Jammu on June 23 to review the party's preparations for the Lok Sabha election due next year, a senior party leader said today.
It will be Shah's first visit to Jammu and Kashmir after the BJP withdrew support to its alliance partner People's Democratic Party, prompting Mehbooba Mufti to resign as the chief minister yesterday.
The state has been placed under Governor's rule.
"Shah is arriving here to pay homage to the founder member of Bharatiya Jana Sangh Shyama Prasad Mookherjee on his martyrdom day. He will check preparedness of the state unit of the party for the upcoming parliamentary election," state BJP president Ravinder Raina told reporters in Jammu.
Raina, who was flanked by senior party leaders including former deputy chief minister Kavinder Gupta, said Shah would chair the election committee meeting of the party to discuss the issues for the next election.
"A large public rally will be organised in front of Brahmin Sabha Parade Road which will be addressed by Shah. People in large numbers are likely to attend the meeting as there is huge appreciation in the masses on the sacrifice of the government made by the BJP in the interest of nation," he said.
The BJP is observing June 23 as 'Mookerjee's Balidan Diwas' and the party workers would resolve to follow the path shown by him and dedicate themselves for the cause of nation and be ready and prepared for any sacrifice, Raina said.
"The party is ready and prepared to face elections whenever the process will be initiated as it believes that real power lies with the voters and leaders are to serve the masses and nation," he said.
Raina said the party stood by all its commitment made to the people while in power and when the time came for decision for national interest, it didn't blink for a moment before taking decision to resign from the government.
He said security forces have free hand to deal with the worsening security situation in the state and to bring about the change towards peace. -- PTI