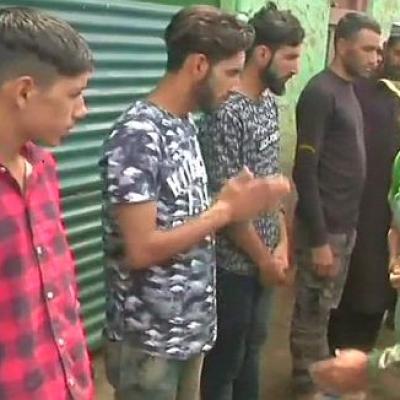 Defence Minister Nirmala Sitharaman meets the family of Rifleman Aurangzeb in J&K's Poonch. Aurangzeb was abducted from Pulwama by terrorists and later his bullet-ridden body was recovered on June 14.
Aurangzeb was a rifleman with the 44 Rashtriya Rifles. He was in a private vehicle when he was abducted near Kalampora. Originally a resident of Poonch, Aurangzeb was on leave and going home when he was abducted by terrorists. His body was found with two gunshot wounds - one in the head and one in the neck.
The defence minister is also likely to review the security situation in the state with two major security concerns -- the Kheer Bhavani festival that begins tomorrow and the 60-day Amarnath Yatra on June 28.
Yesterday, the BJP dumped the PDP, its alliance partner in Jammu and Kashmir. One of the reasons cited by BJP general secretary Ram Madhav at the press conference announcing the decision to withdraw support was that the Mehbooba Mufti government had failed to contain militancy and radicalisation of youth in the Kashmir Valley.