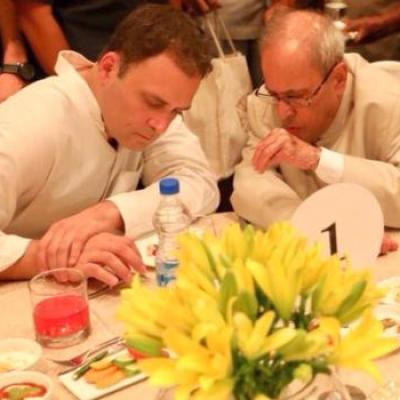 Days after a row erupted over his address at the RSS headquarters, former president Pranab Mukherjee broke bread with Rahul Gandhi at an iftaar party hosted by the Congress chief.
Among the prominent personalities included Mukherjee's predecessor Pratibha Patil and former prime minister Manmohan Singh, besides former vice president Hamid Ansari besides a host of opposition leaders.
While top opposition leaders were conspicuous by their absence, middle-rung leaders of many parties were at the iftaar hosted at a local luxury hotel. No senior leader of Samajwadi Party attended it.
This is the first iftaar hosted by Gandhi as Congress president.
Among other leaders included CPI-M's Sitaram Yechury, BSP's Satish Chandra Misra, TMC's Dinesh Trivedi and DMK's Kanimozhi.
Breakaway JD-U leader Sharad Yadav, JD-S leader Danish Ali, JMM's Hemant Soren, NCP's DP Tripathy, RJD's Manoj Jha, AIUDF leader Badruddin Ajmal, RLD's Mehrajuddin also attended the party.
"Good food, friendly faces and great conversation make for a memorable Iftar! We were honoured to have two former Presidents, Pranab Da and Smt Pratibha Patil ji join us, along with leaders from different political parties, the media, diplomats and many old and new friends," Gandhi said on Twitter after the iftaar.
Mukherjee was seen conversing with Gandhi and exchanging pleasantries with him and several other senior Congress leaders.
There was considerable disquiet in the Congress after Mukherjee accepted the invitation of the RSS to address its workers at its headquarters in Nagpur.
After much consternation, the party however, later complimented him for his speech for showing the mirror of truth that carried lessons on pluralism and secularism to the Sangh.
Gandhi came along with Mukherjee and while the former president left after sometime, the Congress chief offered to drop him back but Mukherjee politely refused.