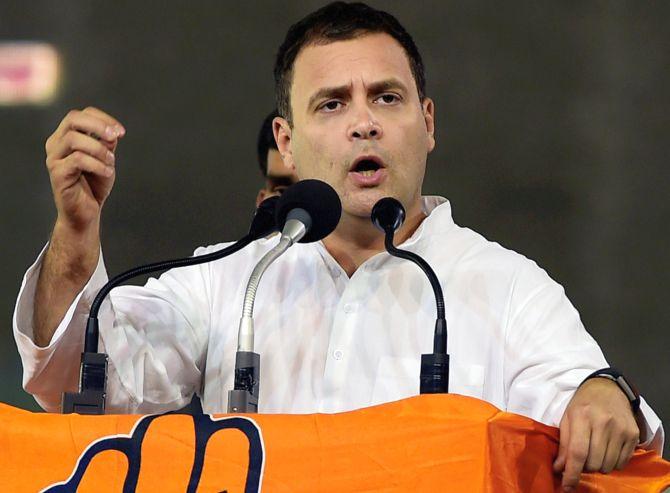 "Coca-Cola wala America mein shikanji bechta tha', "McDonald's wala dhaba chalata tha', Congress president Rahul Gandhi today quipped as he addressed the OBC national convention of the party at Talkatora Stadium in Delhi.
Targetting the Narendra Modi government over a host of issues, Rahul said that there is no dearth of skilled people in the country but the issue is with the government that 'doesn't provide opportunity to our talented people'.
"India does not reward people who have the skills,' he said. "Coca-Cola ko kisne shuru kiya? Kaun tha ye, koi jaanta hai? Main aapko batata hoon, kaun tha. Coca-Cola company shuru karne wala ek shikanji (lemonade) bechne wala vyakti tha. Wo America mein shikanji bechta tha, paani mein cheeni milata tha. Uske experience ka aadar hua, hunar ka aadar hua, paisa mila aur company bani,' he said. (Who started Coca-Cola? Who was he, does anybody know? I will tell you who he was. The one who started Coca-Cola used to sell shikanji (lemonade), he used to mix sugar in water. His experience was appreciated, his talent was recognised, he got money and the company was set up)."
The Coca-Cola was founded by American pharmacist John Stith Pemberton. In May 1886, just two years before he died, John had developed an early version of a beverage that later became world-famous as Coca-Cola. He had, however, sold the rights to the drink before he passed away.
"McDonals's ka naam suna hoga'sab jagah dikhti hai company. Isko chalu kisne kiya? Kya karta tha wo, koi bata sakta hai mujhe? Dhaba chalata tha. Aap mujhe Hindustan mein wo dhaba wala dikha do, jisne Coca Cola company banaya,' he said. (You must have heard the name of McDonald's' the company is visible everywhere. Who started this? What did he do, can anybody tell me? He ran a dhaba. You show me one person who runs a dhaba, and set-up a Coca-Cola in India).