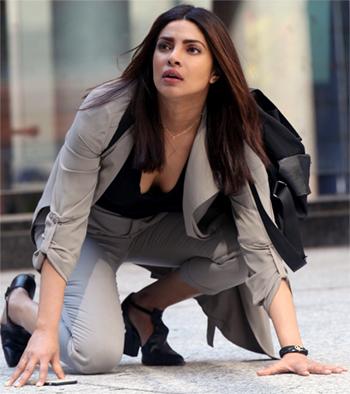 ABC Studios, the executive producers of Quantico have issued a statement apologising for offending audiences.
ABC clarified that Priyanka Chopra had no role in writing or directing the show.
"ABC Studios and the executive producers of 'Quantico' would like to extend an apology to our audience who were offended by the most recent episode, "The Blood of Romeo." The episode has stirred a lot of emotion, much of which is unfairly aimed at Priyanka Chopra, who didn't create the show, nor does she write or direct it. She has no involvement in the casting of the show or the story lines depicted in the series.
"Quantico is a work of fiction. The show has featured antagonists of many different ethnicities and backgrounds, but in this case we inadvertently and regrettably stepped into a complex political issue. It was certainly not our intention to offend anyone," the statement said.
Chopra who plays the role of FBI agent Alex Parrish, foils a plot by Indian nationalists to carry out a nuclear attack in Manhattan and frame Pakistanis for it days before a summit on Kashmir.
Chopra's character thwarts the plot after noticing a Hindu symbol the rudraksha on a chain worn by one of the terrorists.
Calling the fictional plot a "betrayal" and arguing that such a scenario is improbable if not impossible, a group calling itself "Hindu Americans" is proposing a a boycott of her work and of advertisers supporting her work. "She has crossed a line with her garbage lying attack on peaceful Hindus. Shame on her!" the group under the handle @HinduAmericans posted on Twitter.