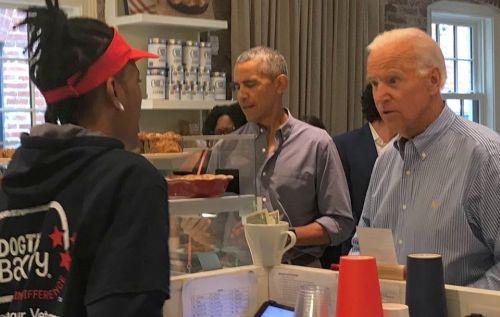 Former United States president Barack Obama reunited with his vice president and dear friend Joe Biden over lunch at the Dog Tag Bakery in Georgetown, Washington DC, where they showed support for veterans and military families and military caregivers.
The bakery, a non-profit that provides work experience and education for veterans and military families through fellowship programs, shared a photo via Twitter of the dynamic duo ordering lunch on Monday.
Megan Ogilvie, Dog Tags CEO, said that Obama and Bidens lunchtime outing was completely unexpected, with the bakery finding out less than 10 minutes in advance.
According to Ogilvie, both Obama and Biden ordered Dog Tags ham and Gruyre sandwich, which was served with shallot-infused jam on ciabatta bread. Obama chose a fennel side salad, while Biden indulged his noted sweet tooth with a piece of mint basil blueberry cake. Both men had coffee with their lunch.
And before leaving, Obama praised the bakery saying, "What you guys are doing... that's what makes us proud. We so appreciate you guys."
Photograph: @DogTagBakery/Twitter