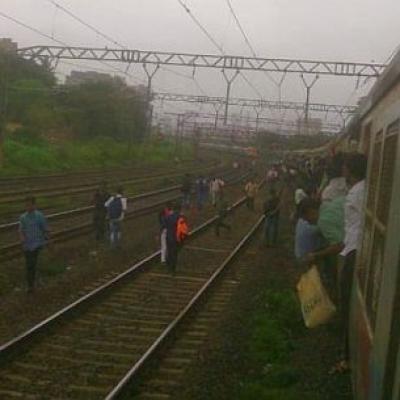 Commuters on Mumbai's Central Railway were inconvenienced once again just before 8 am today, following a technical glitch on the slow line tracks towards Chhatrapati Shivaji Maharaj Terminus.
The glitch affected many trains on the slow track with trains stationary for over 45 minutes approximately. With no announcements forthcoming as is the norm for the suburban rail network on both central and western railway, commuters had little choice but to jump on to the tracks and begin walking to the nearest train station. Thankfully, it wasn't raining at the time. Trains stalled due to flooded tracks is also a given for Central Railway every single year.
As suddenly as it stopped, the train service resumed after a while.
Which is when Central Railway tweeted: 'There was a unit problem on Up slow line. Though the problem has been resolved but cascading effect of bunching has delayed trains on main suburban line for some time. Traffic being normalized shortly."
Commuters vented their ire on social media."Its 9.43 n still issue remains same. Many trains got cancelled and no announcement anywer.. Why everyday there is new issue?' Amisha tweeted.
'Plz have some mercy on us. We R being harassed in this manner every other day. Think about people travelling from far. Plz take out some permanent solution. In which laguage do u understand our problems? Only when some1 loses a life, u understand Seriousness,' tweeted advocate Priya.
'This is the 3rd time in the week central railway fails. Train is delayed by 30min Sick and tired,' Mujahid Shaikh tweeted, speaking for many commuters.
--
Hemant Waje/
Rediff.com
Image: Commuters walking the tracks between Kurla and Sion stations, both low-lying flood-prone areas. Thankfully, there were no rains today. Pic: Hemant Waje.