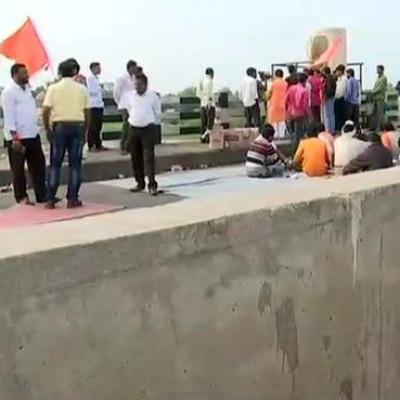 The agitation by Maratha community for reservation in government jobs and education took a tragic turn on Monday after a 27-year-old protester jumped to his death in Godavari river near Maharashtra's Aurangabad.
Kakasaheb Shinde, a resident of Kaygaon village in Aurangabad district, jumped off a bridge over Godavari river, police said. He was rushed to a nearby hospital where he was declared dead, they said.
The incident came days after Maharashtra Chief Minister Devendra Fadnavis said he was cancelling his visit, scheduled on Monday, to a temple in Pandharpur after protesting Maratha outfits threatened to disrupt the event.
Shinde's death triggered a fresh set of protests in several parts of Maharashtra, with opposition leaders seeking to put the onus on the BJP-led government in the state.
Protesters blocked the Ahmednagar-Aurangabad highway and damaged a dozen vehicles, including a police van and a bus, in Gangakhed tehsil of Parbhani district.
They refused to take possession of Shinde's body and demanded the resignation of Fadnavis. They held a sit-in protest at the Gangapur police station in Aurangabad district, demanding that criminal case be filed against the Chief Minister over Shinde's death.
Seeking immediate announcement of reservations for the Maratha community, the protesters also sought a compensation of Rs 50 lakh for Shinde's family.
The Maratha Kranti Morcha, which led 'jal samadhi' protest in which Shinde died, is leading the agitation seeking reservations for the community. In the last few days, protests have take place in Buldhana, Akola, Parali, Washim and even in Mumbai.
The community leaders had earlier taken out several rallies in various districts to highlight their demands. Last year, a huge rally was organised by the Maratha Kranti Morcha in this connection in Mumbai.
Despite assurances from Fadnavis to fulfil the demands, nothing concrete has been done till now, community leaders have claimed. -- PTI
Image: Maratha Kranti Morcha workers protests on Tuesday in Aurangabad. Photograph: ANI