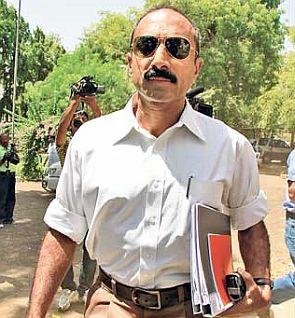 The Gujarat government has withdrawn the security cover provided to former IPS officer Sanjiv Bhatt, claiming that there is no threat to his life now.
A release issued by the Intelligence Wing of the Gujarat CID said that security cover of 64 people including Bhatt has been withdrawn following a periodic review of thethreat perception in each person's case.
Yesterday, Bhatt had written a letter to Chief Minister Vijay Rupani, requesting him to direct the Home Department 'to refrain from taking any steps or measures thatwould directly or indirectly jeopardise' his security.
Bhatt had been provided an armed Personal Security Officer (PSO) by the government.
"Bhatt has been dismissed from the service. He was first given security in April 2011 and it remained in place for over seven years now, as he deposed as a witness beforethe Nanavati Commission and before the SIT probing the 2002 post-Godhra riot cases," said the release.
However, he is no longer a witness in any such case, and he has no threat from any person or organisation, it said.
"Thus, after a detailed review, his security cover has been withdrawn," the release read.
Bhatt can always use the three guns that he owns for self-defence, as he got the gun licence only for this purpose, the release said.
Along with Bhatt, security cover of 20 former MLAs and ministers, a BJP Member of Parliament, eight judges, five police officers and 30 other 'dignitaries' has been withdrawn after a detailed review of threat perception, the CID said in the release.
Bhatt was dismissed from the service in August 2015.
He had taken on the Gujarat government when Narendra Modi was chief minister by filing an affidavit in the Supreme Court, where he alleged that Modi had instructed officers to allow Hindus 'to vent anger' after the Godhra train burning incident. -- PTI