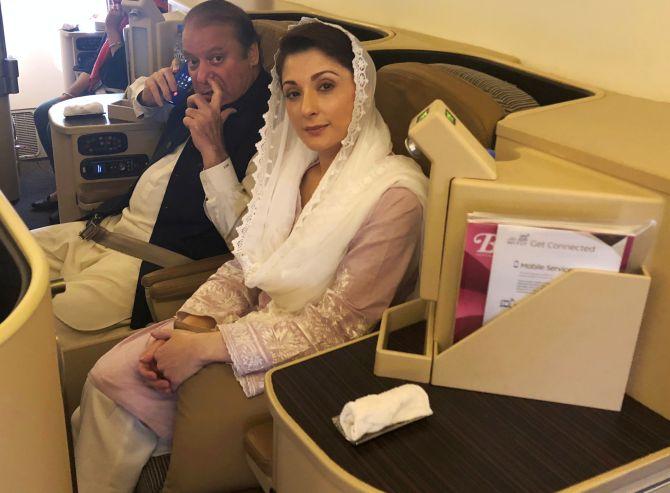 Jailed former Pakistan prime minister Nawaz Sharif, his daughter and son-in-law today filed an appeal in the Islamabad high court against the verdict in one of the corruption cases and seeking their release on bail, according to media reports.
Sharif, 68, and his daughter Maryam, 44, were arrested in Lahore on Friday on their arrival from London after an accountability court found them guilty on July 6 over his family's ownership of four luxury flats in London.
The appeal highlighted the legal flaws in the Avenfield verdict and pleaded to nullify the Islamabad Accountability Court's verdict. Moreover, it (the appeal) further sought the release of three convicts on bail, The Express Tribune reported.
A appeal was also filed against conducting the proceedings of the remaining two corruption cases within the Adiala jail premises, it added.
A separate appeal was filed to request the transfer of the case to another accountability court as the defence counsel argued that Judge Mohammad Bashir of the accountability court had already made public his opinion on multiple aspects of the case. The same appeal had been filed earlier and were instructed by the court to pursue the matter in the relevant high court.
The Islamabad Accountability Court had sentenced Sharif to a total of 11 years in prison and imposed a fine of 8 million pounds (USD 10 million) in the corruption case. His daughter Maryam was sentenced to eight years in prison along with a 2 million pound (USD 2.6 million) fine.
In addition, Sharif's son-in-law Captain (retired) Safdar was given a one-year sentence without any fine.
Maryam's legal counsel Amjad Pervaiz stated that the accountability court's verdict in the Avenfield case was not in compliance with the law. -- PTI