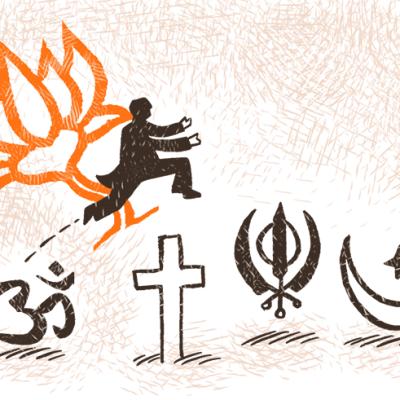 Bharatiya Janata Party member of Parliament MP from Bastar, Dinesh Kashyap, has said people, especially Adivasis, who convert their religion, should be barred from availing of government facilities.
"Conversion is a big problem. Those Adivasis, who have converted their religion, shouldn't be allowed to avail the benefits from different government facilities," Kashyap said at a rally Jagdalpur in Chhattisgarh.
Later on, while speaking to ANI, Kashyap justified his statement and said, "This is my own thinking. Those who convert their religion should be barred from government facilities. I think this should be followed. The number of such cases will decrease once this rule will be brought into action."
This comes after the Jharkhand police reportedly arrested 16 preachers for allegedly trying to convert local residents to Christianity earlier last week.
All 16 were booked under the Freedom of Religion Act, which came into force last year.
Illustration: Dominic Xavier/Rediff.com.