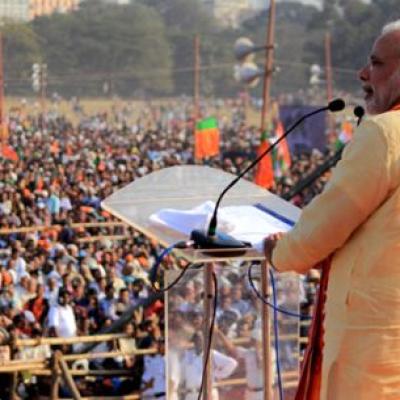 Prime Minister Narendra Modi will begin a two-day tour of eastern Uttar Pradesh tomorrow, visiting his parliamentary constituency Varanasi and laying the foundation stone in Azamgarh for the 340-km Purvanchal Expressway.
The prime minister will also inaugurate other development projects and address rallies in Varanasi, Azamgarh and Mirzapur during the tour, his second visit to the politically crucial state in a week.
Modi will land in Varanasi tomorrow and head straight by helicopter to Azamgarh, where he will launch the expressway project that the opposition Samajwadi Party claims was the brainchild of former chief minister Akhilesh Yadav.
The six-lane expressway will provide a smooth ride between the state capital and Ghazipur in eastern UP, where the BJP is trying to consolidate its position ahead of the 2019 Lok Sabha elections.
The Rs 23,000-crore expressway will be constructed in three years, an official said.
After laying its foundation stone, the prime minister will address a public rally and fly back to Varanasi.
He will address another rally at Kachnar village there in the afternoon and also meet BJP workers at Varanasi's DLW guest house.
On Sunday, he will address a public meeting in Mirzapur. He will also dedicate the Bansagar Canal Project to the nation there and lay the foundation stone for the Mirzapur Medical College.
The Mirzapur Lok Sabha constituency is represented by Apna Dal (Sonelal), an ally of the ruling BJP in Uttar Pradesh and at the Centre.
-- PTI