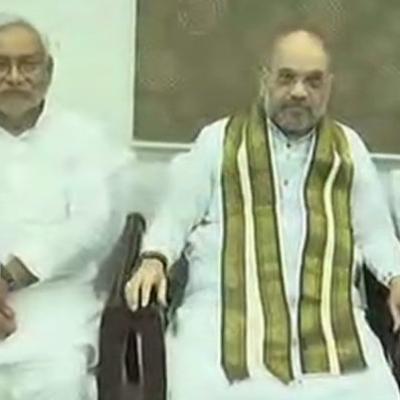 M I Khan reports from Patna:

Bharatiya Janata Party president Amish Shah meets Bihar Chief Minister Nitish Kumar over breakfast in Patna on Thursday.
Shah arrived in Patna earlier on Thursday. He was given a grand welcome by hundreds of party workers at the airport.
He was received by senior BJP leaders including Union Ministers from Bihar, Deputy Chief Minister Sushil Kumar Modi and several party workers, who thronged the Patna airport with garlands to welcome him.
Soon after his arrival, Shah, along with senior party leaders, went to the state guest house near Raj Bhawan to have breakfast with Nitish Kumar and other senior Janata Dal-United leaders.
Shah will also meet Kumar at a dinner tonight.
Shah is in Patna to discuss strategy of 2019 Lok Sabha polls with party leaders and workers.
But, all eyes are on his meeting with Kumar in view of a likely discussion on seat sharing for 2019 polls.