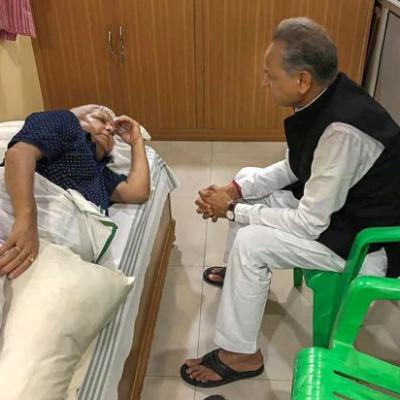 Senior Congress leader Ashok Gehlot today said it was a "majboori" (compulsion) for the party to hold talks with parties like the Rashtriya Janata Dal and the Janata Dal-United for an alliance in Bihar and batted for strengthening the party so that it can win elections on its own.
The RJD hit back saying they were themselves worried about the "bad shape in which the Congress is".
Gehlot, Congress general secretary in-charge of organisation and training, made the remark at a meeting at the Bihar Pradesh Congress Committee headquarters in Patna, where a vociferous demand was made by some leaders, most notably Rajya Sabha MP Akhilesh Singh, that the party insists on a respectable seat-sharing formula in Bihar and not remain content with whatever is left over by Lalu Prasad's RJD.
"All know under what type of circumstances alliances are formed. It has become a 'majboori' (compulsion) for us to hold talks with parties like the RJD or the JD(U). Our Bihar unit has many senior leaders. We should not waste time on quarrels but work to strengthen the party and so that fighting elections on our own and forming our own government become a possibility," Gehlot said.
Breaking away from the grand alliance with the RJD and the Congress last year in Bihar, the JD(U) teamed up with the BJP to head a NDA government in the state.
The Congress had fought with the RJD and the NCP in the 2014 Lok Sabha polls in Bihar and bagged two seats.
Reacting to Gehlot's comments, RJD national vice-president Shivanand Tiwary said, "Why only Bihar, the Congress is faced with a similar situation in many other states. In Madhya Pradesh, it is desperately trying to have a truck with Mayawati. In the Lok Sabha, it does not have adequate numbers to get the main opposition party status. We hold the view that the Congress decimation is not good for Indian democracy. But the use of a word like compulsion by a seasoned leader like Gehlot is going to do no good to his workers."
Deputy Chief Minister Sushil Kumar Modi tweeted "After all, the Congress had to give up its dream of bringing back Chief Minister Nitish Kumar to the grand alliance and acknowledge the compulsion to stay on in an alliance with a party mired in corruption. Both RJD and Congress are on the same page when it comes to corruption, dynasty rule and seeking power for amassing wealth instead of serving the poor. Both parties are envious of rapport the ruling JD (U) and BJP share."
State Congress working president Kaukab Qadri, however, sought to downplay Gehlot's comments saying these have been misunderstood.
"He did not at all mean to suggest that we consider the RJD as a liability and not a valuable ally. Just before the meeting at the BPCC headquarters, we had met Lalu Prasad at his residence," he said. -- PTI
Image: Former Rajasthan chief minister Ashok Gehlot meets with RJD Chief Lalu Prasad Yadav at his residence in Patna on Thursday, July 12, 2018. Photograph: PTI Photo