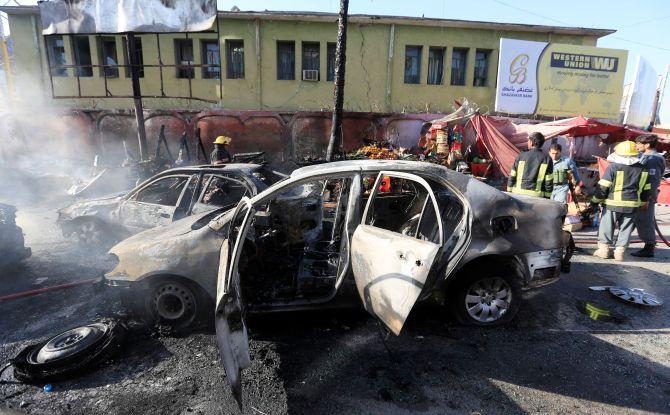 India and Afghanistan must stand together to free the two countries from terrorism, Afghan envoy to New Delhi Shaida Abdali said today, condemning the terror attack in Jalalabad in which 19 people, including a number of Sikhs, were killed.
In a clear reference to Pakistan, Abdali said India and Afghanistan have been victims of terrorism from a "common source" and the time has come for the international community to deal with it effectively.
He said the Afghan government will try to find whether the attack in eastern Afghanistan yesterday was carried out by groups from across border or from some other place.
"Afghanistan and India have been victims of terrorism from the same source. We have to stand together with rest of the world to fight terrorism," Abdali said.
He said Afghanistan has been a victim of terrorism almost on a daily basis but it has the resolve to defeat the menace. "It was an attack on Afghan democracy, attack on Afghan values, freedom of religion and on our diversity," he said.
External Affairs Minister Sushma Swaraj today met the family members of some of the victims of the suicide bombing attack.
The meeting took place at JN Bhavan in New Delhi. Avtar Singh Khalsa, a Sikh leader who had planned to contest the upcoming parliamentary elections in Afghanistan, was killed in the attack.
The Afghan envoy said though the attack has been claimed by Daish, or the Islamic State group, it is a fact that terrorism into Afghanistan is coming from across border. -- PTI