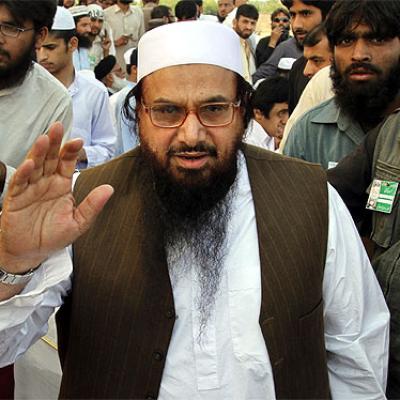 Pakistan today kept mum over what action it will take against Mumbai attack mastermind Hafiz Saeed, but said it takes its 'international obligations' very seriously.
Foreign Office spokesman Mohammad Faisal while replying to a question during his weekly briefing said Pakistan is serious to implement United Nations sanctions against listed individuals and groups including Saeed.
"As far as Hafiz Saeed is concerned, Pakistan takes its international obligations very seriously. We have been implementing the UN Security Council sanctions related to assets freeze, arms embargo and travel ban on all listed individuals and entities," he said.
The Foreign Office spokesman was asked about action being taken against the founder of the Lashkar-e-Tayiba after a BBC report that he toured the United Kingdom in the 1990s to incite Muslims to become jihadis.
A BBC investigation has said that Saeed, one of the world's most wanted terror suspects, who now heads the Jamaat-ud-Dawah (JuD) group in Pakistan, had toured British mosques in 1995 and his visit was recorded in a magazine published by the LeT at the time.
Pakistan has banned the collection of donations by the JuD, the front organisation of banned outfit Lashkar- e-Tayiba, as well as several other such organisations named in a list of banned outfits by the UN Security Council.
"Pakistan has consistently maintained that the only way forward is through a comprehensive, result-oriented, uninterrupted, uninterruptible dialogue to resolve all outstanding issues. We are also ready to talk about the issue of terrorism, which is a global phenomenon, and calls for global and concerted action," he said. --
PTI