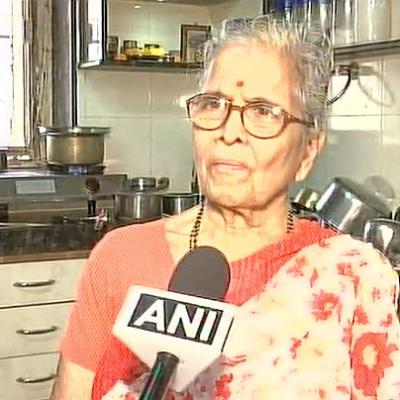 An elderly couple from Mumbai has made a heart-wrenching plea to President Ram Nath Kovind seeking permission for active euthanasia or "assisted suicide" as they feel they are of no use to society or themselves.
Narayan Lavate (88) and his wife Iravati (78), who have no children and say their siblings are also no more, are of the view that keeping them alive against their wishes is a "waste of the country's scarce resources as well as theirs".
The couple, residing at Charni Road in South Mumbai, has sought the president's intervention as they feel it is unfair to compel them to wait to die till they are afflicted by any serious ailment, and to make theirs as an exceptional case of "active euthanasia".
"The president has the powers for showing mercy to those on death row. We are serving a life imprisonment and the president can show us mercy by allowing us to end our lives," Narayan Lavate, who retired from the Maharashtra State Road Transport Corporation (MSRTC) in 1989, told PTI.
Explaining his unusual plea, Lavate said if he and his wife, a retired school principal, decided to commit suicide by jumping from a terrace or hanging themselves, there was no guarantee they would die.
"In Switzerland, there is an organisation called Dignitas for those who wish to end their lives. Qualified doctors who assist them in the process are not charged for abetment to suicide. We became members of the organisation but cannot go there since I don't have a passport," Lavate said. "Our aim of writing to the president is to make us an exceptional case for active euthanasia," he said.
In his petition dated December 21, 2017, Lavate said he and his wife are in a reasonably good health and not suffering from any serious ailment. He said it is unfair to compel them to wait till they contract some serious ailment or deformity.
"We are of no use to the society or ourselves. Our siblings have passed away and we have no children. Keeping us alive against our wishes is wasting the scarce resources of the country as well as ours," the octogenarian said.
"We have already committed to donate our bodies after death and whatever little wealth we have, to the state treasury," Lavate said. He added, "At present we don't have any ailment or deformity. There is no guarantee that it'll be the case even in future. Instead of living further and creating trouble for others it is better to die. We had decided that we won't have children. There is no one in our family."
His wife Iravati said, "I have had two operations. It is not possible for me to go out alone. It is tough for me to sit idle. I was a teacher. What is the purpose for me live now."