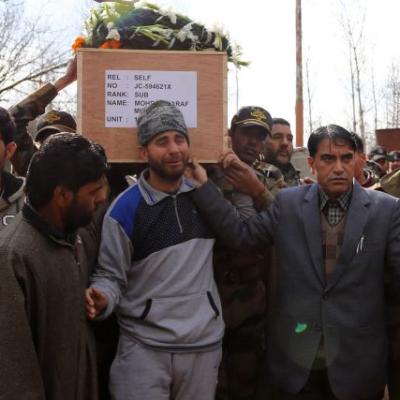 Northern Army Commander Lieutenant General Devraj Anbu on Wednesday said social media is acting as a catalyst in brewing terror.
Urging for an immediate solution in the connection Lt Gen. Anbu said, "Social media is also responsible for increase in terror, it's engaging the youth at a large scale and I think we need to focus on this issue soon. Also, we don't communalise; those making statements don't know the Army well. The nation is above religion for us."
"The enemy is frustrated and is trying for softer targets, when they fail at borders they attack on camps. Yes, youth joining terror is a concern, we need to address this trend," he added.
Lt Gen. Anbu further said Hizbul Mujahideen (HM), Jaish-e-Mohammed or Lashkar-e-Taiba (LeT) are hands in glove.
"All three groups like HM, JeM or LeT are hands in glove whether it's in valley or here. There is no differentiation; they keep jumping from one Tanzim to other. Anyone who picks up an arm and is against the state is a terrorist and we'll deal with him," Lt Gen. Anbu noted.
AIMIM chief Asaduddin Owaisi on Tuesday racked up another controversy by giving a communal angle to the sacrifice of Indian soldiers in the terror attack on Jammu's Sunjwan Army Camp.
Condemning the attack, Owaisi said, "The so-called nationalists blame and question the nationalism of Muslims. In this attack, five out seven who sacrificed their lives are Kashmiri Muslims. It's a reminder to all those who question our integrity and love for the country. Muslims are dying for the country, but are called Pakistani. Terrorists are not differentiating but Muslims are still asked to prove their loyalty to the country."
Image: Family members and locals carry the body of JCO Mohammad Ashraf Mir, martyred in the Sunjuwan Army Camp attack, in Kupwara on Tuesday. Photograph: Umar Ganie/Rediff.com