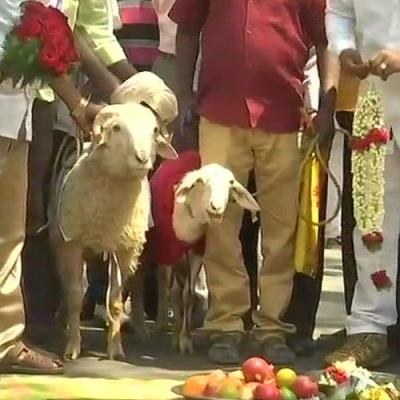 In Karnataka, the Karnataka Rakshana Vedike organises the marriage of two sheep in Bengaluru as a mark of support to Valentine's Day.
And in Chennai, to protest against Valentine's Day celebrations, the Bharat Hindu Front cadres performed marriage rituals between a dog and a donkey.
The dog and the donkey were garlanded with flowers and had their foreheads marked with turmeric in Chennai's Choolai area. The party workers raised slogans against Valentine's Day. The women cadres carried plates filled with materials used as a ritual performed in Hindu marriages.
Meanwhile, members of Bajrang Dal harassed couples at Sabarmati Riverfront in Ahmedabad. The miscreants were later detained by the police.Moreover, Bajrang Dal members in Hyderabad staged a protest against Valentine's Day.