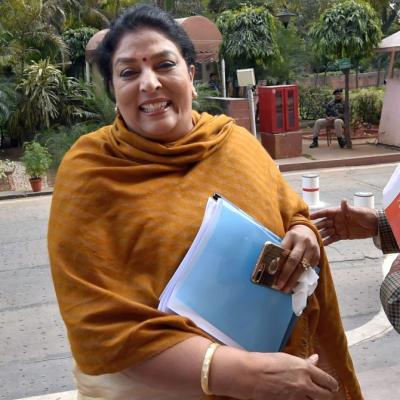 Bharatiya Janata Party MP Shatrughan Sinha once again walks a different path from his party. The Patna Sahib MP has today openly backed Opposition leader Congress MP Renuka Chowdhury, tweeting his support for her. Chowdhury was mocked by Prime Minister Narendra Modi for laughing during his speech in the Rajya Sabha during Parliaments Budget Session and admonished by the Chair Venkaiah Naidu, who on hearing her laughing loudly, asked her to see a doctor.
Sinha tweeted, "Laugh Renuka laugh! We love you, were fond of you & wish you well. Dont worry, be happy! Let them cry & shout hoarse. Things will settle down. Those who oppose womens empowerment & laughter would melt soon. We all will have the last laugh. Long live Nari Shakti. Jai hind!
During his reply to the debate on Motion of Thanks on Presidents address, Modi had questioned the Congresss claim of being the originator of the biometric national ID Aadhaar when he said that the then Home Minister LK Advani had in 1998 spoken about an all-purpose national ID in Rajya Sabha.
This led to Chowdhury bursting into loud laughter. Naidu had disapproved of the behaviour but Modi asked him not to stop Chowdhury.
Sabhapati ji meri aapse vinti hai Renuka ji ko kuch mat kahiye. Ramayan serial ke baad aisi hansi sunne ka saubhagya aaj jaake mila hai (I request you not to say anything to Renuka ji. After the Ramayan serial, we got the privilege of hearing this kind of laughter only today, he had said, to the amusement of top BJP leaders and other ministers sitting around him.