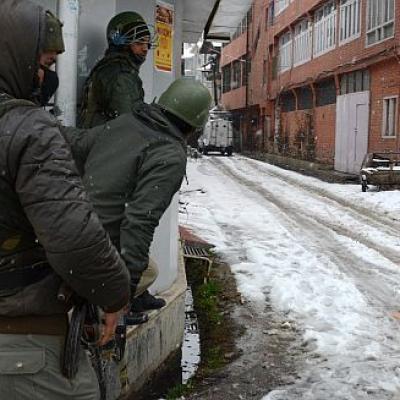 The encounter between terrorists holed up in a building in Karan Nagar area of Srinagar and security forces resumed this morning after an overnight lull.
The exchange of fire between the terrorists and the security forces resumed at day break, a CRPF official said.
He said the security forces were preparing for a final assault on the terrorists when they opened firing. No new casualty has been reported today.
A CRPF jawan was killed and a policeman was injured in the exchange of fire yesterday. The CRPF has claimed that it thwarted the attempt by the terrorists to attack its camp in Karan Nagar area. The incident came days after Jaish-e-Mohammad (JeM) terrorists attacked another Army camp in Sunjwan area of Jammu, killing six people including five soldiers. Three militants were also killed in retaliation by the Army. -- PTI
Image: Security forces at Karan Nagar yesterday. The encounter is on for over 20 hours now. Pic: Umar Ganie